ニュース

Tour of Japan 2022 News
Mitsubishi Estate presents Tour of Japan 2022 4th Stage Tokyo<Report>
Sunday, 22nd May, 2022
Weather: Sunny
Temperature: 23℃
Number of spectators: 23,000Raymond KREDER (TEAM UKYO) wins the TOKYO stage! Nathan EARLE (TEAM UKYO) claims the GC victory!
The Mitsubishi Estate presents Tour of Japan 2022 finally arrived in Tokyo, last stage of the tour. It took place on the traditional Oi Futo (Oi Warf) circuit, making 16 laps of 7 km. A high-speed battle was seen on a flat course.

The event started at 11:00am with the starter, Mr. Kentaro ASAHI, a member of the House of Councilors and a member of the Japanese Legislators' Association for Promoting Bicycle Use.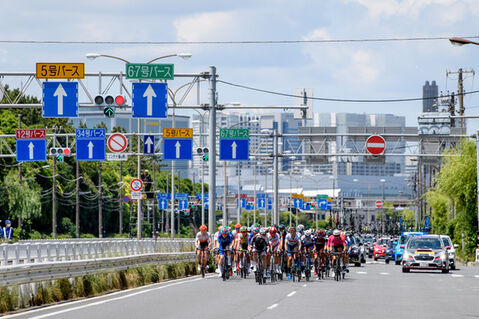 After the race neutral of 3.8km, the actual start was set. As usual, the battle of attacks began immediately.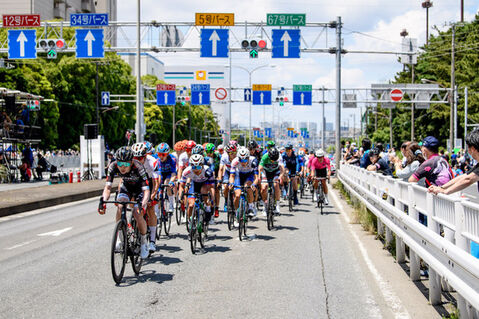 On the second lap, an 8-rider breakaway including Ryan CAVANAGH (VICTOIRE HIROSHIMA) was almost set, but was pulled back to the main group when VICTOIRE HIROSHIMA, in seventh place in GC, could not find a partner to help him escape in concert.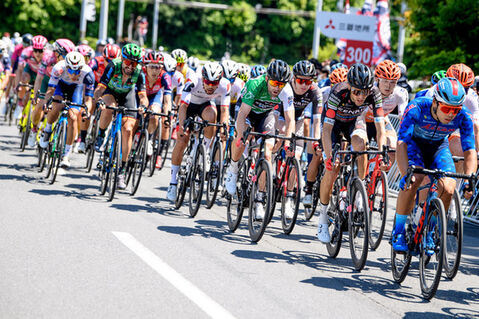 After a few more attacks, finally on the sixth lap, three riders, Yusuke KADOTA (EF EDUCATION-NIPPO DEVELOPMENT TEAM), Hayato NISHIO (NASU BLASEN) and Jose Vicente TORIBIO ALCOLEA (MATRIX POWERTAG) escaped and successfully formed a breakaway. The break built a 17-second time gap to the chasing group of three riders and a 35-second time gap to the peloton and then entered 7th lap. By the end of 8th lap, the breakaway approximately made 1 minute 30 seconds time gap to the main group and the race had completely settled down.
On 9th lap, 3-rider chasing group by Shotaro IRIBE (YOWAMUSHI PEDAL CYCLING TEAM), Takumi YAMADA (JAPAN NATIONAL TEAM) and Yudai ARASHIRO (KINAN CYCLING TEAM) joined and formed the 6-rider breakaway with 1 minute 20 second time gap to the peloton. Although the time gap was shortened by 1 minute 10 seconds by the end of 10th lap and 56 seconds by the end of 11th lap, the race remained stable and still went on without a hitch.
On 14th lap, the peloton clearly increased its pace and was in the chase position for the sprint finish. The time gap was quickly reduced to 30 seconds with two laps to go. By 15th lap, the main group closed the gap to 17 seconds within range and was finally going into the final lap.
The breakaway tried desperately to escape, but the peloton caught them with less than 5km to go. Hayato NISHIO (NASU BLASEN), who had been trying to escape solo until 2km to go, was also absorbed and the front group was down to the final bunch sprint.
Raymond KREDER (TEAM UKYO) won the chaotic sprint battle. With three wins in four days, TEAM UKYO completely dominated this race.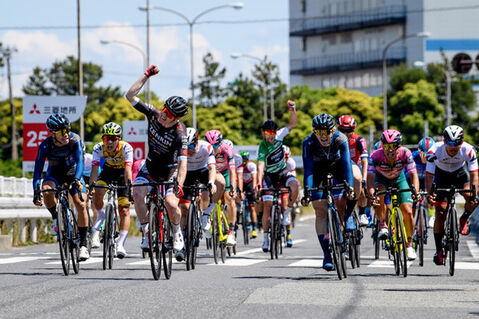 Tokyo Governor Yuriko KOIKE showed up on the stage as a presenter at the awards ceremony and praised for the TOKYO stage winner, Raymond KREDER.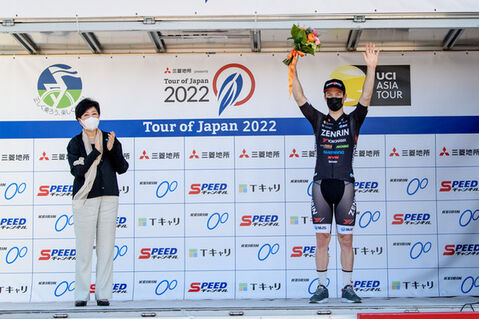 Raymond KREDER (TEAM UKYO)
Tokyo stage winner
"It was a wonderful day. I am very happy. The other days were just hard for me, so I had to help the team for GC. The first two days were very hard for me and I had to survive to make it to finish. Today, in the meeting, they said that everything would be done for the bunch sprint. So, I felt a little bit pressure, but I have raced for many years. I am very happy to win the stage today."
Nathan EARLE (TEAM UKYO)
General Individual Time Classification (Green Jersey)
"It is very special and honor to win the Tour of Japan. Japan is really my second home. I always enjoy Japan every time. I am very happy to be here and win for TEAM UKYO. Thank you."
Leonel QUINTERO ARTEAGA (MATRIX POWETAG)
General Points Classification (Blue Jersey)
"For Japanese fans, thank you very much for your support. Your warmth encouraged me to do my best. I am very happy to win the points prize in my first stage race in Japan. I want to thank my team, my teammates, my family in Venezuela, and all the fans who are here today. Thank you."
Marino KOBAYASHI (MATRIX POWERTAG)
General King of Mountain Classification (Red Jersey)
"Although I am happy to win the Red Jersey Wearer, the result was not what we expected. I really appreciate everyone who came to support us today. Due to the COVID-19, we have not had many opportunities to show fans our race in live, and after all, a race is meaningless unless you see it live. So I am very happy that everyone was able to watch it on site today. Thank you very much."
Taishi MIYAZAKI (UTSUNOMIYA BLITZEN)
General Young Riders Classification (White Jersey)
"As of yesterday, I thought I would be able to defend my jersey today. There were things that worried me, like crash, but the race was stable and I felt secure. Initially, I did not think I could make it this far, but first I want to analyze myself and fulfill my role on the team for the next National Championships Japan Road Race."