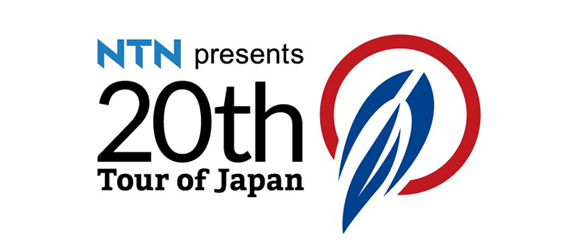 UCI公認国際自転車ロードレース
NTN presents 第20回 ツアー・オブ・ジャパン 実施概要
名称
UCI公認国際自転車ロードレース 『NTN presents 20th Tour of Japan』(UCIアジアツアー2.1)
主催
自転車月間推進協議会
主管
ツアー・オブ・ジャパン組織委員会(事務局:一般財団法人日本自転車普及協会)
競技主管
公益財団法人日本自転車競技連盟
後援
内閣府/総務省/文部科学省/経済産業省/国土交通省/消費者庁/東京都/大阪府/三重県/長野県/静岡県/公益財団法人JKA/朝日新聞社/日刊スポーツ新聞社
協力
堺市/京都府/京田辺市/精華町/いなべ市/岐阜県/美濃市/飯田市/飯田観光協会/小山町(静岡県駿東郡)/伊豆市/一般財団法人日本サイクルスポーツセンター/東京港埠頭株式会社
冠協賛
NTN株式会社
特別協賛
SPEED チャンネル
株式会社SUBARU
日本トーター株式会社
協賛
デサントジャパン株式会社
THULE
ヤマハ発動機株式会社
ダイドードリンコ株式会社
株式会社シマノ
アメアスポーツジャパン株式会社
株式会社ゼンリン
井上ゴム工業株式会社
株式会社NIPPO
株式会社キナン
株式会社ミヤタサイクル
パナソニックサイクルテック株式会社
株式会社マトリックス
岡三証券株式会社
Rapha Japan
JA共済連
シャープ株式会社
東京サンエス株式会社
東京海上日動火災保険株式会社
KTC 京都機械工具株式会社
株式会社深谷産業
株式会社オージーケーカブト
株式会社バレット
芙蓉総合リース株式会社
みずほ銀行
出場チーム
全16チーム(海外8チーム/国内8チーム)

<海外チーム>
バーレーン・メリダ(WT/バーレーン)
NIPPO・ヴィーニファンティーニ(PCT/イタリア)
ユナイテッドヘルスケア・プロフェッショナル・サイクリング・チーム(PCT/アメリカ)
アタッキ・チーム・グスト(CT/スロヴェニア)
アイソウェイ・スポーツ・スイスウェルネス(CT/オーストラリア)
タブリーズ・シャハルダリ・チーム(CT/イラン)※
チーム・ダウナー・D&DQ・アーコン(CT/ドイツ)
トレンガヌ・サイクリング・チーム(CT/マレーシア)
※UCI Invitational ranking による自動招待
<国内チーム>
チーム右京(CT)
キナンサイクリングチーム(CT)
宇都宮ブリッツェン(CT)
ブリヂストン アンカー サイクリングチーム(CT)
マトリックス パワータグ(CT)
シマノレーシングチーム(CT)
愛三工業レーシングチーム(CT)
日本ナショナルチーム

チーム編成
9名(選手6名/監督1名/メカニック1名/マッサー1名)
競技規則
UCI(国際自転車競技連合)規則及び本大会特別規則による
開催日程
2017年5月21日(日)~5月28日(日)
第1ステージ 【堺】
5/21(日)13:35
大仙公園周回コース
2.65㎞(個人タイムトライアル)
獲得標高 = 10m
第2ステージ 【京都】
5/22(月)9:25(セレモニーラン)
セレモニーラン:5.5㎞(普賢寺ふれあいの駅→同志社大学京田辺キャンパス→普賢寺小学校)
普賢寺小学校前→けいはんなプラザ周回コース
<パレード3.4㎞> + <4.2㎞ + 16.8㎞ x 6周 = 105.0㎞>
獲得標高 = 1,836m
第3ステージ 【いなべ】
5/23(火)9:20
阿下喜駅前→下野尻交差点→いなべ市梅林公園周回コース
<パレード2.8㎞> + < 8.6㎞ + 14.8㎞ x 8周 = 127㎞>
獲得標高 = 1,650m
第4ステージ 【美濃】
5/24(水)9:15
旧今井家住宅前→横越→美濃和紙の里会館前周回コース
<パレード4.0㎞> + <11.6㎞ + 21.3㎞ x 6周 = 139.4㎞>
獲得標高 = 1,218m
第5ステージ 【南信州】
5/25(木)9:15
飯田駅→下久堅周回コース→松尾総合運動場前
<パレード7.3㎞> + <12.2㎞ x 10周 + 1.6㎞ = 123.6㎞>
獲得標高 = 2,580m
第6ステージ 【富士山】
5/26(金)10:45(セレモニーラン)
セレモニーラン:13.2㎞(小山町生涯学習センター→須走商店街→ふじあざみライン入口)
ふじあざみライン入口(12:00)→富士山須走口5合目
11.4㎞(ヒルクライム)
獲得標高 = 1,147m
第7ステージ 【伊豆】
5/27(土)9:30
日本サイクルスポーツセンター周回コース
12.2㎞ x 10周 = 122.0㎞
獲得標高 = 3,750m
第8ステージ 【東京】
5/28(日)11:00
日比谷シティ前→大井埠頭周回コース
<パレード1.2㎞> + <14.7㎞ + 7.0㎞ x 14周 = 112.7㎞>
獲得標高 = 100m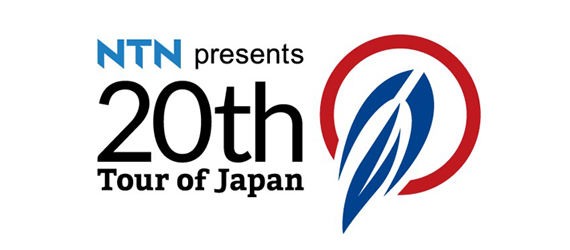 UCI Official International Cycle Road Race
NTN presents 20th Tour of Japan
< OUTLINE OF THE RACE >
-- DESCRIPTION --
UCI official international cycle road race 『20th Tour of Japan』 (UCI Asia Tour 2.1)
-- ORGANIZERS --
Cycle Month Promotion Council
-- SUPERVISOR --
Tour of Japan Organizing Committee
(Secretariat:Bicycling Popularization Association of Japan)
-- RACE SUPERVISOR --
Japan Cycling Federation
-- SUPPORTED BY --
Cabinet Office
Ministry of Internal Affairs and Communications
Ministry of Education , Culture , Sports , Science and Technology
Ministry of Economy , Trade and Industry
Ministry of Land , Infrastructure and Transport
Consumer Affairs Agency, Government of Japan
Tokyo Metropolitan Government
Osaka Prefectural Government
Mie Prefectural Government
Nagano Prefecture
Shizuoka Prefectural Government
J.K.A.
The Asahi Shimbun
The Nikkan Sports News
-- COOPERATION --
Sakai City
Kyoto Prefecture / Kyotanabe City / Seika Town
Inabe City
Gifu Prefectural Government / Mino City
Iida City / Iida Tourism Association
Oyama Town
Izu City / Japan Cycle Sports Center
Tokyo Port Terminal Corporation
-- TITLE SPONSOR --
NTN Corporation
-- TOP SPONSORS --
SPEED CHANNEL
SUBARU CORPORATION
NIPPON TOTOR CO.,LTD.

-- SPONSORS --
DESCENTE LTD.
THULE
Yamaha Motor Co., Ltd.
DyDo DRINCO, INC.
SHIMANO INC.
Amer Sports Japan, Inc.
ZENRIN CO., LTD.
Inoue Rubber Co.,Ltd.
NIPPO CORPORATION
KINAN Corporation
MIYATA CYCLE Co.,Ltd.
Panasonic Cycle Technology Co., Ltd.
Matrix Inc.
Okasan Securities Co., Ltd.
Rapha Japan
National Mutual Insurance Federation of Agricultural Cooperatives
SHARP CORPORATION
TOKYO SAN-ESU CO.,LTD.
Tokio Marine & Nichido Fire Insurance Co.,Ltc.
KYOTO TOOL CO.,LTD.
Fukaya Sangyo Co., LTD.
OGK KABUTO Co.,Ltd.
Valette Co.,Ltd.
FUYO GENERAL LEASE CO.,LTD.
Mizuho Bank, Ltd.

-- ENTRY TEAMS --
16 teams ( 8 Overseas , 8 Japanese )
BAHRAIN-MERIDA (WT /BAHRAIN)
NIPPO-VINI FANTINI (PCT / ITALIA)
UNITEDHEALTHCARE PROFESSIONAL CYCLING TEAM (PCT / UNITED STATES OF AMERICA)
ATTAQUE TEAM GUSTO (CT / SLOVENIA)
ISOWHEY SPORTS SWISSWELLNESS (CT / AUSTRALIA)
TABRIZ SHAHRDARY TEAM (CT / IRAN)
TEAM DAUNER D&DQ AKKON (CT / GERMANY)
TERENGGANU CYCLING TEAM (CT / MALAYSIA)
TEAM UKYO (CT / JAPAN)
KINAN CYCLING TEAM (CT / JAPAN)
UTSUNOMIYA BLITZEN (CT / JAPAN)
BRIDGESTONE ANCHOR CYCLING TEAM (CT / JAPAN)
MATRIX POWERTAG (CT / JAPAN)
SHIMANO RACING TEAM (CT / JAPAN)
AISAN RACING TEAM (CT / JAPAN)
JAPAN NATIONAL TEAM
-- TEAM COMPOSITION --
6 riders / 1 team manager / 1 mechanic / 1 masseur
-- RACE REGULATIONS --
UCI regulations and the specific regulations of this race will be applied.
-- RACE SCHEDULE --
May. 21 - 28, 2017
< THE STAGES >
-- Pre-Race Meeting <Sakai> May 20 (Sat) --
License Control 13:30-14:30
Team Manager's Meeting & Driver's Meeting 15:00-16:30
Race Officials Meeting 16:45-18:00
Comfort Hotel Sakai
-- Stage 1 <Sakai> May 21 (Sun) 13:35 --
Daisen Park Circuit Course
2.65km (Individual Time Trial)
Elevation gain : 10m
The transfer distance from Sakai to Kyoto is about 50km (1h by drive)
Hotel : Kyoto
-- Stage 2 <Kyoto> May 22 (Mon) 9:25 --
Fugenji Fureaino Eki - Doshisha University - Fugenji Elementary school -
Keihanna Circuit Course
Celebration Ride 5.5km (Not included in the race distance)
(Race Neutral 3.4km) 4.2km + 16.8km x 6laps = 105km
Neutral : -3.4km (9:50)
Actual Start : 0km
Sprint 1 : 37.8km
KOM 1 : 43.4km (Cat.2)
Sprint 2 : 71.4km
KOM 2 : 77km (Cat.2)
Finish : 105km
Elevation gain : 1,836m
The transfer distance from Kyoto to Inabe is about 110km (1h50m by drive)
Hotel : Yokkaichi
-- Stage 3 <Inabe> May 23 (Tue) 9:20 --
Ageki Station - Shimokawajiri Junction - Inabe Bairin Park Circuit Course
(Race Neutral 2.8km)8.6km + 14.8km x 8laps = 127km
Neutral : -2.8km
Actual Start : 0km
KOM 1 : 24.9km (Cat.2)
Sprint 1 : 53km
KOM 2 : 69.3km (Cat.2)
Sprint 2 : 97.4km
Finish : 127km
Elevation gain : 1,650m
The transfer distance from Inabe to Mino is about 80km (1h20m by drive)
Hotel : Mino
-- Stage 4 <Mino> May 24 (Wed) 9:15 --
Kyu Imaike Jutaku - Yokogoshi - Mino Washi Paper Museum Circuit Course
(Race Neutral 4.0km) 11.6km + 21.3km x 6laps = 139.4km
Neutral : -4.0km
Actual Start : 0km
Sprint 1 : 32.9km
KOM 1 : 48.9km (Cat.2)
Sprint 2 : 75.5km
KOM 2 : 91.5km (Cat.2)
Sprint 3 : 118.1km
Finish : 139.4km
Elevation gain : 1,218m
The transfer distance from Mino to Iida is about 120km (1h50m by drive)
Hotel : Iida
--Stage 5 <Minami-Shinshu> May 25 (Thu) 9:15 --
Iida Station - Shimohisakata Circuit Course - Matuo Stadium
(Race Neutral 7.3km) 12.2km x 10 laps + 1.6km = 123.6km
Neutral : -7.3km
Actual Start : 0km
Sprint 1 : 24.3km
KOM 1 : 27.9km (Cat.1)
Sprint 2 : 60.9km
KOM 2 : 64.5km (Cat.1)
Sprint 3 : 97.5km
Finish : 123.6km
Elevation gain : 2,580m
The transfer distance from Iida to Oyama is about 250km (3h40m by drive)
Hotel : Oyama
-- Stage 6 <Fujisan> May 26 (Fri) 10:45 --
Lifelong Learning center of Oyama Town - Subashiri shopping street -
Fuji-azami Line Subashiri IC - Mt.Fuji Subashiri 5th Station
Celebration Ride 13.2km (Not included in the race distance)
11.4km (Hill-Climb)
Actual Start : 0km (12:00)
KOM 1 : 11.4km (Cat.HC)
Finish : 11.4km (Summit Finish)
Elevation gain : 1,147m
The transfer distance from Oyama to Izu is about 80km (2h30m by drive)
Hotel : Izu
-- Stage 7 <Izu> May 27 (Sat) 9:30 --
Japan Cycle Sports Center Circuit Course
12.2km x 10laps = 122.0km
Actual Start : 0km
KOM 1 : 26.7km (Cat.2)
Sprint 1 : 48.8km
KOM 2 : 63.3km (Cat.2)
Sprint 2 : 85.4km
Finish : 122.0km
Elevation gain : 3,750m
The transfer distance from Izu to Tokyo is about 160km (2h40m by drive)
Hotel : Tokyo
-- Stage 8 <Tokyo> May 28 (Sun) 11:00 --
Hibiya City Bild - Oi Wharf Circuit Course
(Race Neutral 1.2km) 14.7km + 7.0km x 14 laps = 112.7km
Neutral : -1.2km
Actual Start : 0km
Sprint 1 : 28.7km
Sprint 2 : 56.7km
Sprint 3 : 84.7km
Finish : 112.7km
Elevation gain : 100m
Hotel : Tokyo
TOTAL 743.75km
Total Elevation gain : 12,291m
TOUR OF JAPAN Organizing Committee
(Secretariat:Bicycling Popularization Association of Japan)
tojinfo@jifu.jp