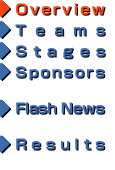 ---
Japanese Site
---
* DESCRIPTION:

4th TOUR OF JAPAN



* ORGANIZERS:

Cycle Month Promotion Council
The Asahi Shimbun
The Nikkan Sports News



* SUPERVISOR:

Tour of Japan Organizing Committee
(Secretariat: Bicycling Association of Japan)



* RACE SUPERVISOR:

Japan Cycling Federation



* SUPPORTED BY:

Management and Coordination Agency
Environmental Agency
Ministry of Education
Ministry of International Trade and Industry (MITI)
Ministry of Transportation
Ministry of Construction
Ministry of Home Affairs
Japan Keirin Association
TV Asahi



* COOPERATION:

Todaiji Temple
Shuzenji-cho
Japan Cycle Sports Center
Twin Ring Motegi



* RACE SCHEDULE:

 
May 15(Sat):
Managers' Meeting
(Rihga Royal Hotel Sakai)
First Stage:
May 16(Sun):
Osaka Stage
(Osaka Sakai Senboku Circuit Course)
2nd Stage:
May 17(Mon):
Nara Stage
(Todaiji Temple - Nunome Dam Circuit Course)
 
May 18(Tue):
Traveling day
3rd Stage:
May 19(Wed):
Shuzenji Stage
(Japan Cycle Sports Center)
 
May 20(Thu):
Traveling day
4th Stage:
May 21(Fri):
Motegi Stage
(Twin Ring Motegi)
5th Stage:
May 22(Sat):
Utsunomiya Stage
(Utsunomiya Forest Park Circuit Course)
6th Stage:
May 23(Sun):
Tokyo Stage
(Hibiya - Ooi Wharf Circuit Course)





* STAGE DISTANCES:

STAGE NAME
DISTANCE
1. Osaka Stage
140.80km
2. Nara Stage
146.75km
3. Shuzenji Stage
146.40km
4. Motegi Stage
153.36km
5. Utsunomiya Stage
151.30km
6. Tokyo Stage
147.20km
Total
885.81km





* PARTICIPATING TEAMS:

Trade Teams (6teams):

Team Polti (Italy), Cantina Tollo-Alexia Allumino (Italy), Mroz (Poland), Saturn (USA), Die Continentale-Olympia (Germany), Nippon-Hodo Besson-Chaussures (France)

National Teams (4 teams):

Kazakstan, Australia, New Zealand, Korea

Japanese Club Teams (7 teams):

Team Bridgestone Anchor, Sumita Ravanello Pearlizumi, Inoac B-cks IRC, Shimano RacingCheblo Artnature, Miyata Subaru Racingteam, TeamJPCA





* RACE REGULATIONS:

UCI regulations and the specific regulations of this race will be applied. This race is subject to Anti-Doping inspection.



* TV BROADCAST:

The TV Asahi network will broadcast a Tour digest special from 15:30 to 16:25 on May 29th.